Easy Meals To Keep You Warm This Autumn
It's getting to that time of year where all we feel like doing is wrapping up warm on the sofa and eating a hot meal. When you're feeling under the weather, the last thing you want to do is spend a hefty amount of time making warm dinners, especially when it's for more than one person!
In this post, we'll cover some top tips and aids to help improve the efficiency of your meal prep and the best easy breakfast, lunch and dinner ideas to keep you warm this Autumn. Let's face it, a little amount of warmth can go a long way!
Top Tips When Preparing Food and Cooking
As long as some hot meals might take to cook, we all know it ends up being the meal prep that's the most time-consuming! So we've compiled together some top tips when it comes to preparing food in the kitchen to make it that tad bit simpler.
PLAN AHEAD
Planning ahead when preparing for a warm dinner is what is going to make life much easier, reducing time and financial strain. By breaking down your ingredients into steps that are easy to follow and making sure your kitchen is organised means you get extra time to relax in between cooking and you'll only be buying food that you actually need which avoids needless waste! Before shopping, be sure to check what you might already have; we all have numerous amounts of herbs and spices we've only used once, right?
MAKE EVERYTHING EASY TO REACH
That leads us to our next tip, making everything you're going to need easily accessible. There's no point deciding you're going to use that left-over sauce from the other night if you can't even get to it!  A great idea is to use storage baskets in your cupboards for certain ingredients so you'll never have to worry about forgetting where you put something again!
BE PREPARED WITH NEW EQUIPMENT
Cooking is so much more fun when you're excited to use new equipment and you never know, it could give you some inspiration to experiment with your meal ideas! New equipment doesn't always mean pricey, you can get some decent utensils these days without having to pay a fortune. In fact, it's best to change your utensils now and again for best results when preparing and cooking meals.
PRIORITISE OVEN & STOVE SPACE
We're talking about hot meals here so, of course, your oven and stove is the number one priority! Placing your oven in a suitable position is what is going to help with every crucial step when preparing and cooking meals because an easily accessible cooking environment only means one thing, tasty warm dinners! This step will also help with making everything easy to reach around your oven, so it won't just be the cooking part that will be effortless!
Breakfast
We all get told that breakfast is the most important meal of the day but who wants to eat a cold meal in Autumn when they've only just combatted getting out of their cosy bed? I'm sure you'd all agree that a hot meal to warm you up is what would be best to help you kick-start the day, so here are a few quick, easy meals!
AVOCADO & FRIED EGG ON TOAST
Fried egg on toast might seem like a mundane choice, but what is a British breakfast without it? Avocado is a great upgrade from the classic hot meal idea, not to mention how simple it is to add! Here's a quick recipe by Age UK which talks you through how to make avocado and fried egg on toast. When you've made it once, it will undoubtedly be your go-to breakfast!
INGREDIENTS
1 or 2 slices of your favourite bread (depending on how hungry you're feeling!)
1 or 2 eggs
½ an avocado
METHOD
1. The first step is to toast your bread…yes, that's all!
2. Next, you need to split your avocado in half. You can check whether it's ready to eat by its texture. If it's feeling slightly soft, then it's perfect to eat! Once cut in half, carefully twist each half to remove the stone.
3. You then need to prepare the avocado so it's spreadable which can be done by crushing it down with the back of a spoon, simple!
4. The next step is to fry your egg. When you're hungry and cold, the last thing you want to do is be stood around waiting for food to cook, so you can use this time by spreading the avocado on the toast.
5. Once the egg is done frying, add this on top of the avocado and toast and you're good to go!
WARM PORRIDGE & BERRIES
If you prefer something sweet when it comes to that all-important first hot meal in the morning, making some porridge with berries gives you a healthier option. Sweet doesn't always have to mean unhealthy! Here's a speedy recipe from Care.com.
INGREDIENTS
Frozen or fresh berries of your choice
Small knob of butter
Porridge oats
Water
METHOD
1. The first step is to put your choice of berries on a low heat in either a slow cooker or a saucepan.
2. Next, add the knob of butter and a serving of porridge oats and water into the cooker/pan.
3. Then, you mix them together until warm, it really is that simple!
Lunch
We understand how important breakfast is, but when it gets to lunchtime, we start to get peckish for another warm source of energy. So, we have chosen a couple of the best easy hot meals to satisfy your tums this Autumn!
BUTTERNUT SQUASH SOUP WITH CHILLI
This is a popular, five-star recipe from BBC Good Food. We chose this recipe because it includes a pop of chilli and some crème fraîche which makes it completely unique to any usual butternut squash soup we've seen before! If you're not a spice lover, don't worry, you can just cut the chilli out. Soup isn't just a go-to comfort meal for when you're feeling blue or under the weather, but it's also great to make in bulk because it lasts so you can save the leftovers and have it again later on in the week!
INGREDIENTS
1 butternut squash (preferably about 1kg)
2 tbsp of olive oil
1 tbsp of butter
2 onions
1 thinly sliced garlic clove
2 mild red chillies
850ml of hot vegetable stock
4 tbsp of crème fraîche (plus a little more to add on top for a finishing touch!)
METHOD
1. First, you need to preheat your oven to 200℃/180℃ fan or gas mark 6.
2. Next, you need to peel and deseed your butternut squash into pretty big cubes (about 4cm) then chuck these into a large roasting tin with 1 tablespoon of the olive oil. These cubes need to be roasted for 30 minutes. A great tip is to turn them halfway through cooking so they can become soft and golden on each side!
3. You don't want to waste any valuable time, so spend this 30 minutes melting the butter and the second tablespoon of olive oil in a saucepan.
4. This is when you can dice your onions, the garlic clove and finely chop ¾ of the chillis. (The other quarter will also be used as decoration!) Add all these ingredients to the pan and cook on a very low heat for 15-20 minutes, depending on when your onions are fully soft.
5. Once the butternut squash is finished roasting, add it to the pan with the rest of the ingredients with the vegetable stock and crème fraîche. This is the fun part, blend using a hand blender to watch all your ingredients come together into a soup texture. If you prefer a thinner, velvety soup, this is when you can use a standard blender which will liquidise your ingredients.
6. Then, reheat the soup and add any extra salt and pepper if needed!
7. Lastly, serve with the extra crème fraîche and chilli for added decoration and flavour and, voilà!
PANCETTA, PARMESAN & CAULIFLOWER PASTA
This pasta recipe isn't just a hot meal that takes just 20 minutes to prepare and cook, but it also includes just five different ingredients! This lunch idea is a perfect recipe if you fancy pasta but want to jazz up the flavours slightly from your standard tomato sauce. It's also a healthy option which is a bonus! This recipe by sweetphi.com is enough for four people but the ingredients can easily be cut down if you're making this dinner idea for fewer people.
INGREDIENTS
8 ounces (226.8g) of whole wheat penne pasta or any pasta of your choice!
4 ounces (113.4g) of pancetta
½ a head of cauliflower
½ tsp of garlic salt
1 cup of parmesan cheese
METHOD
1. First, start by cooking the pasta in a saucepan. The cooking time will depend on your choice of pasta so be sure to check the instructions on the packet.
2. Once the pasta is as soft or al dente as you like, drain it but keep about ½ a cup (250ml) of the water and poor this back into the pan with the pasta.
3. Next, dice the pancetta and cut the cauliflower into small pieces.
4. Then, you cook the pancetta in a separate saucepan. Make sure you stir it every now and again for about 2 minutes!
5. Next, you can add the cauliflower and garlic salt to the pancetta, again, stirring every now and again but for 5 minutes. A great tip to infuse more flavour is to take about 125ml of the pasta water and pour it into the cauliflower and pancetta and cook for 1 more minute.
6. Finally, remove the cauliflower and pancetta from the heat and add it to the pasta with parmesan. Then, simply stir together and serve. Easy!
Dinner
When you've come home from a long day and the cold, dark nights are drawing in, we know you'll want an easy, warm dinner to fill you up so we've got some meal ideas that will be perfect!
TOAD IN THE HOLE
Toad in the hole is so traditional that you can't really go wrong with it! Not to mention that everyone loves a good yorkshire! We've found another effortless recipe by BBC Good Food for you to follow:
INGREDIENTS
12 chipolata sausages
1tbsp of sunflower oil
140g of plain flour
½ tsp of salt
2 eggs
175ml of semi-skimmed milk
METHOD
1. Firstly, start by heating the oven to 220℃/200℃ fan.
2. Next, you need to bake the chipolatas in a tin with the sunflower oil. Do this for 15 minutes until nice and brown!
3. So you're not wasting well-needed time, you can start making your batter for the yorkshire puddings whilst you wait. Simply pour the flour and salt into a bowl and create a well in the middle to crack the eggs into. Then, by using an electric whisk, slowly add the milk!
4. After your chipolatas have been in the oven for 15 minutes, take them out and pour the batter mix over them.
5. Then, simply cook for another 25-30 minutes until risen and golden!
6. To boost the warmth of this dinner idea even more, add your favourite vegetables and gravy!
BEEF STEW
This recipe by allrecipes.co.uk takes longer than the others but it's still super easy! The meal prep only takes 20 minutes so even though cooking time takes 2 hours and 20 minutes, you can stick the heating on and sit back and relax during this time.
This recipe is big enough to serve 10 people so it's great for if you want to invite the family round for dinner. If not then don't worry, this recipe is simple enough to cut down for the number of people you're feeding! Even though the cooking might take over 2 hours, this is another recipe where you save the leftovers and have them the next day for lunch or dinner. This way, you're reducing waste and it saves you having to cook a hot meal the next day!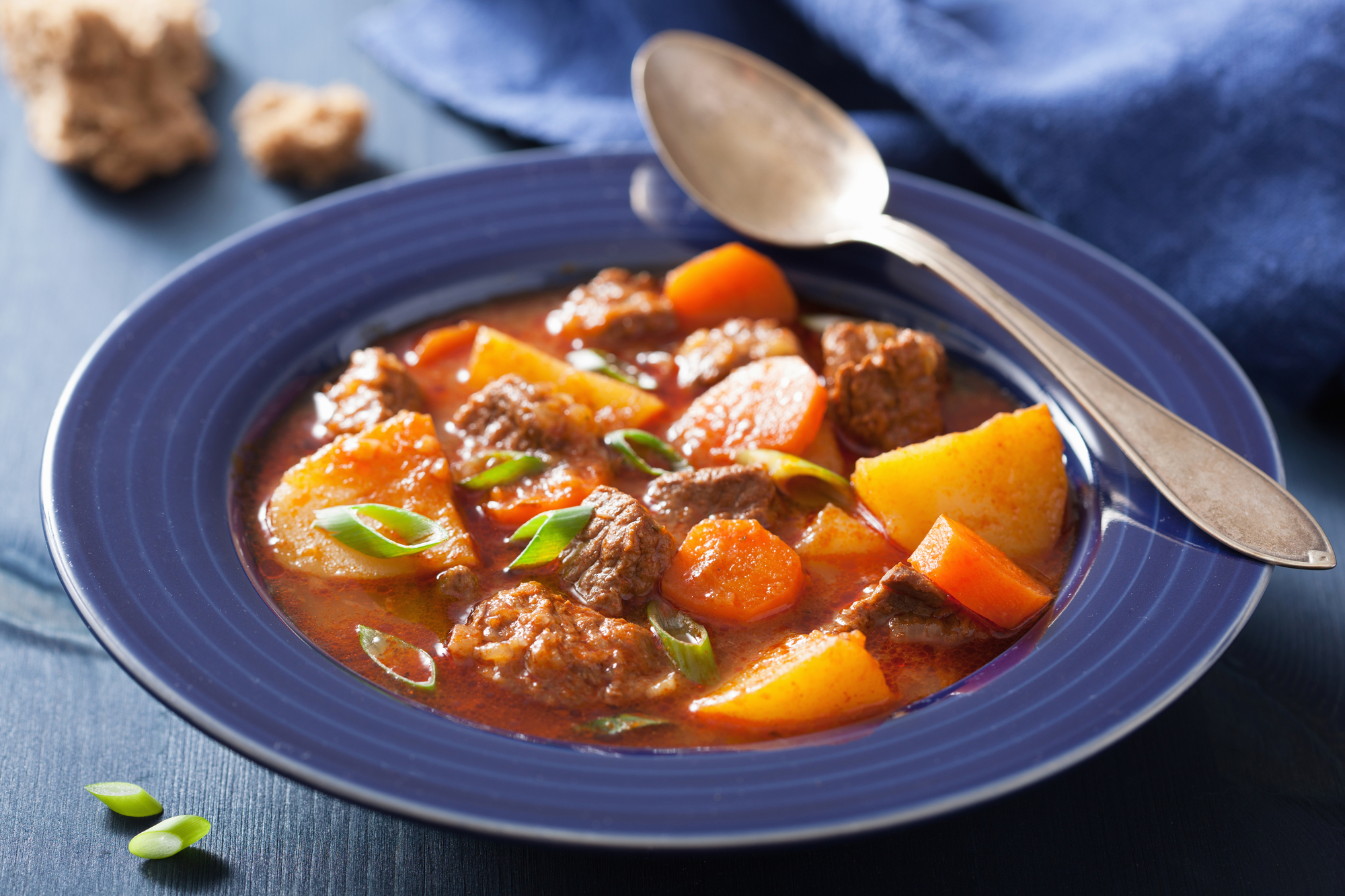 INGREDIENTS
900g of stewing steak
3 tbsp of vegetable oil
4 crumbled beef stock cubes
1 litre of water
1 tsp of dried rosemary
1tsp of dried parsley
½ tsp of ground black pepper
3 large potatoes
4 carrots
4 celery sticks
1 large onion
2 tsp of cornflour
2 tsp of cold water
METHOD
1. The first step is to peel and cube the large potatoes, cut the carrots and celery sticks into small pieces and chop the onion.
2. Next, get a large casserole-style pan and cook the beef in the vegetable oil until perfectly brown.
3. Then, dissolve the stock cubes in water and pour this into the pan with the beef.
4. You can then stir in the rosemary, parsley and pepper which are the perfect condiments to give your stew that flavoursome kick!
5. Once all these ingredients are in, bring to the boil, then reduce the heat and cover for 1 hour so you're just simmering the beef.
6. It might seem like there's a lot of different ingredients for this meal idea, but most of them just need cutting up and chucking in to cook! This brings us to the next step. Simply stir in the potatoes, onion, carrots and celery and after dissolving the cornflour in 2 teaspoons of cold water, stir this in too.
7. You can then cover the stew again and simmer for 1 more hour (this is the part where you sit back and relax!)
What Kitchen & Eating Aids Can I Buy?
At The Mobility Aids Centre, we believe that everyone should have the opportunity to cook comfortably and independently in the heart of their own home so we specialise in providing a large range of kitchen and eating aids. These can be used by individuals with a range of different abilities to help with meal prep and cooking at ease.
COOKING & PREPARATION AIDS
This combination chopping board is made from durable white polypropylene and comes with its very own detachable chef's knife which features a sharp steel blade. This chopping board is perfect for aiding you when peeling and chopping a large range of ingredients because it features steel spikes and high corner guards which conveniently keeps your food in place.
We understand everyone has different strength abilities so our stainless steel cooking basket acts great as an alternative to having to lift heavy pans to drain veg and it's heat insulated. Just simply scoop the ingredients in the basket that need draining and lift it out to drain, handy right?
Whether you need guidance when peeling fruit and veg, or you're a keen multitasker who wants one hand free during meal prep, this peeler is ideal. You can freely clamp the peeler to a table or worktop and all you have to supply is a plate to collect the peelings on!
This slicer is ideal for those budding cooks or those who may have limited grip or might just be unsteady in the kitchen. The slicing helper grasps food securely, allowing room for your knife to cut perfectly even slices!
EATING AIDS
The Mobility Aids Centre provides a large selection of cutlery such as knives, forks, spoons with a range of different textured handles depending on if you need guidance with grip or comfort.
When the autumnal nights begin to emerge, you might prefer to sit in front of the TV with a blanket and eat rather than at the table. However, it's not always as comfortable eating this way so this bean bag tray lets you place food on your lap in a relaxed position, but without losing stability. It also raises your plate or bowl so you can eat with ease.
We know that some people are slower eaters than others but we want you to enjoy your hot meals just as much as everyone else so this keep warm plate by Ornamin lets you fill it with warm water so you don't have to worry about rushing your meal just for it to stay warm. How clever!
Do You Need More Advice On Easy Cooking This Autumn?
If you want to browse our whole range of cooking and eating aids then discover what we have to offer on our website. If you need more guidance and advice, you can call us on 01733 342242.