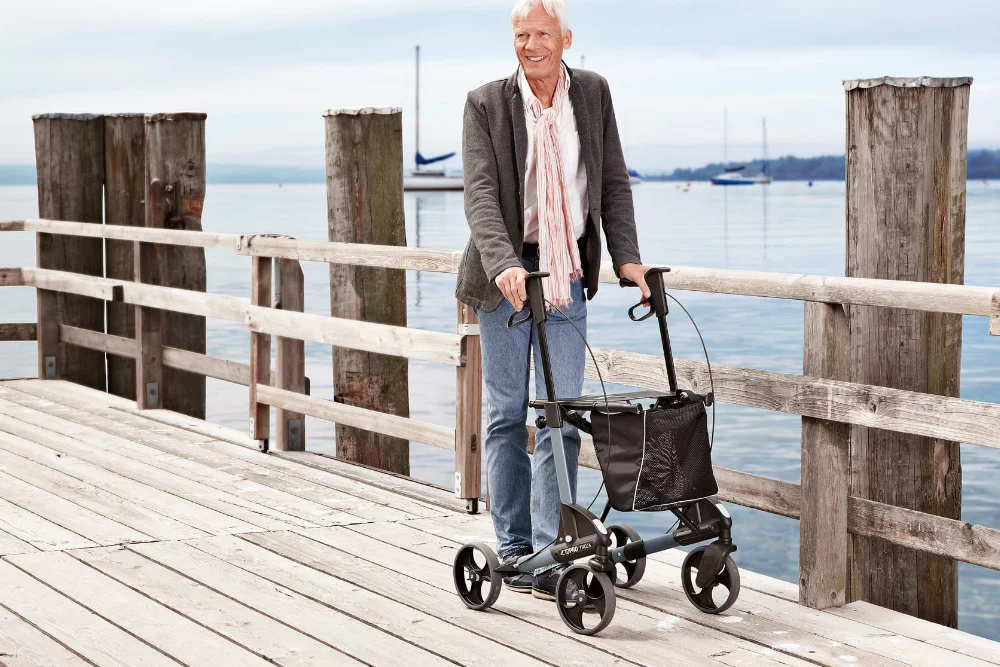 Buyer's Guide – Finding The Best Rollator
The rollator is a revolutionary walking aid for people who require a little extra support when walking; However, with so many options, it can be overwhelming trying to choose the right one to satisfy your unique requirements.
At The Mobility Aids Centre, we hope to shed some light on the particular aspects you should consider when selecting your perfect rollator mobility aid.
How Many Wheels Should Your Rollator Have?
It is really important you have an idea of just what kind of attributes you would like from your rollator. This is majorly dependant on how easily you walk on your own. We will be considering four-wheel rollators and three-wheel rollators.
If you like the support of a zimmer frame but desire a little more manoeuvrability and freedom to travel with confidence, a four-wheel rollator could be a strong option. Our own Lightweight Aluminium 4 Wheel Rollator is ideal for both its robust yet easily transferable frame.
A three-wheel rollator, on the other hand, delivers a lot more motility. The streamlined configuration allows for more freedom of movement without sacrifice on walking support. The Uniscan Triumph 3 is the perfect example of a marriage between portability and practicality in its manoeuvrable construction and handy attachments.
What Extra Benefits Do You Want From Your Rollator?
The advantage of a rollator is that you are never without carrying assistance. Many rollators come with either bags or baskets so that you can embark on your daily tasks such as shopping and gardening with ease. There is also an abundance of both four-wheel and three-wheel rollators that are designed with a seat. This is really handy for when you need to take a moment while you are out and about.
For a purpose-built mobility walking aid that assists both those suffering from mobility issues and arthritis is the Carlett Rollator/Shopping Trolley. This four-wheel rollator delivers both style and function. With a 29l bag for multi-purpose use, a walking stick holder and a cushioned seat, you'll be hard-pressed to find a more convenient device with both support and lightweight capacities.
Alternatively, you may need a walking aid with a bit more substance that you can rely on when approaching varying terrain. In which case, a rollator that has both heavy-duty tyres and a carrying attachment (such as a basket) could be extremely convenient for you. One of our favourites is the Invacare Banjo 4 Wheel Walker as it incorporates both appendages.
However, if you want a device that is easily compactable, doesn't come with a seat but does provide you with manoeuvrability, durable support and assistance with a large carrying bag, a three-wheel rollator is likely more up your street. Such a device is the Lightweight Tri Wheel Walker With Bag, which is incredibly convenient and practical.
What Function Should Your Rollator Achieve?
When it comes to your need for a rollator, you will have a purpose you wish for it to accomplish. Are you looking for an all-rounder that you can use in a range of contexts, such as indoors and outdoors? In which case, you will want a compact, light-weight and versatile option that incorporates the necessary attachments mentioned above.
Though these regularly come in at the pricier end of the scale, the quality (and accentuated style) speaks for itself, and you will have a walking aid you can totally depend on. The Nitro HD Rollator accomplished these benefits and more. It is instantly collapsible with one hand, and its construction has been built to tackle indoor and outdoor use while offering faithful stability.
Perhaps you would prefer intermittent use of your rollator and have it as an instantly available solution when the need arises. In which case, we would recommend a streamlined, no-frills, diligent rollator that you can keep in the back of the car or at the back of a wardrobe. One such example is in our EZ Fold N Go 2 Wheeled Walker. Its straightforward and portable nature makes it an ideal solution for temporary use.
On the other hand, if you require something a little more adapted to an indoor environment, take a look at the Let's Go Indoor Rollator. This option is easily foldable while offering innovative solutions for around the home, like a tray.
Your Final Decision
As a vital mobility aid, we cannot recommend a rollator enough. However, with such an array of considerations, you must ensure you are purchasing a rollator that accomplishes your personal needs.
If you require further assistance, and you are able to make your way to The Mobility Aid Centre, we would be thrilled to show you the various options. It would be hugely beneficial to try out a few before you make a final decision. In any case, we are always available over the phone to provide further guidance on the rollator walking aid, so give us a call on 01733 342242!