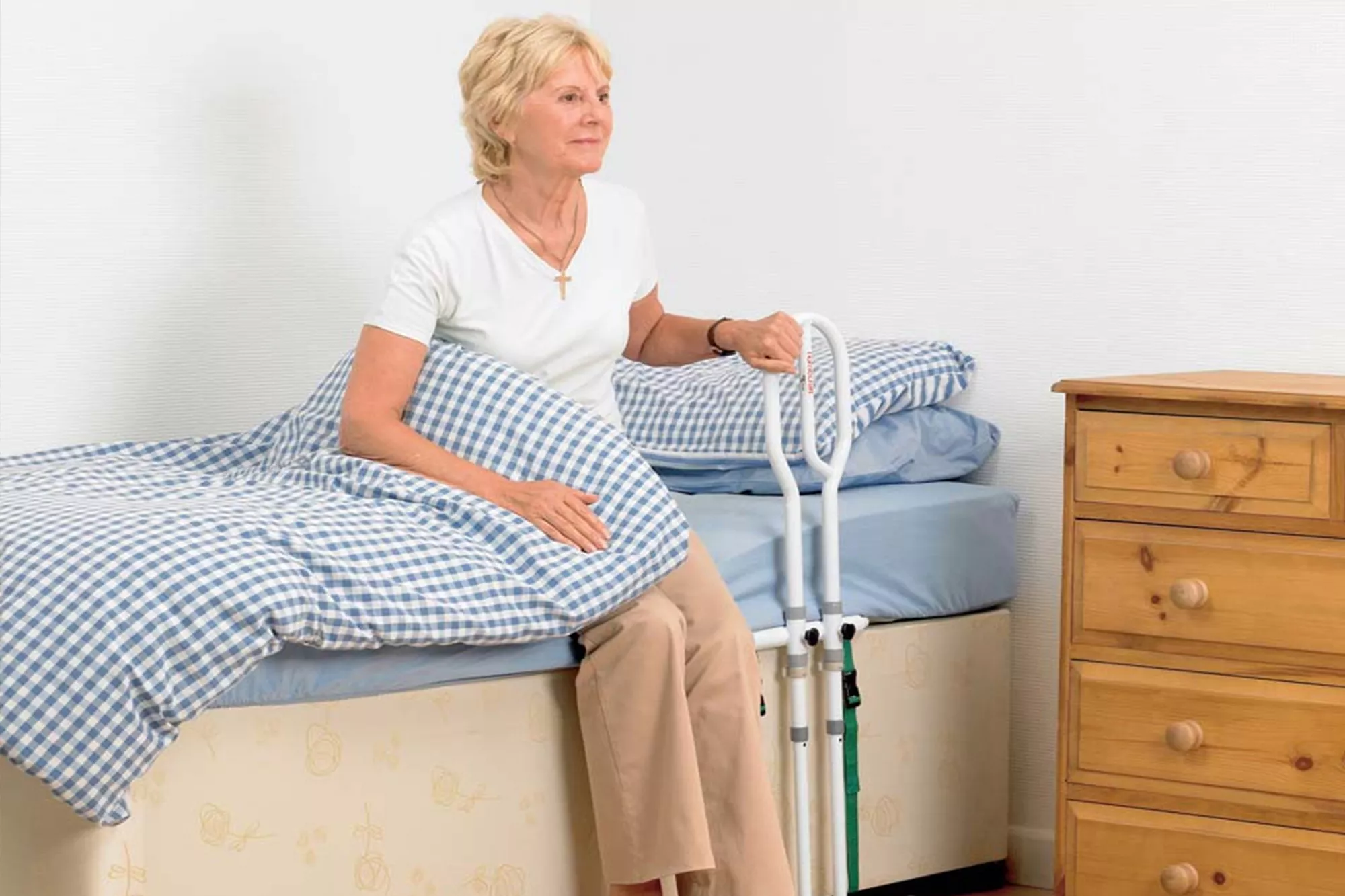 Buyer's Guide – Different Types of Bedroom Mobility Aids
Sleeping is very important for your health; However, we understand that when there is a restriction or discomfort with mobility, it can be a real challenge to get in and out of a bed without support. On top of this, making yourself comfortable can be difficult alone.
This is why there is an excellent range of bedroom mobility aids on the market. These aids go a long way to make you at peace with a task that can be uneasy to tackle. We have put together a buyer's guide to help you understand the different types of bedroom mobility aids out there to help you.
What Are Bedroom Mobility Aids?
Bedroom aids are a brilliant accessory to ensure safety and comfort within the bedroom when muscle mobility is restricted. These include a wide range of products such as bed rails, overbed tables, standing and moving aids.
The main benefit of bedroom mobility aids is to allow the user to have greater freedom and support when getting in and out of bed. Not only do they assist the transfer from and to your bed, but they also provide additional care for sleeping and sitting within the bed.
Exploring The Range Of Bedroom Accessory
As mobility experts that have over 33 years of experience within the industry, we understand the troubles that can be faced within the bedroom due to mobility restrictions. This is why we look to stock the most important bedroom mobility aids for everyday use.
Below, we have gone into detail to help you understand the in's and out's of all the mobility aids that should be on your radar if you are looking for improved mobility within the bedroom.
BED RAILS & SAFETY DEVICES
Bed Rails are a brilliant addition to help with extra stability getting in and out of bed. Helping the user keep balance getting on or off their feet is a very important part of safe independent living. . With a wide range of sizes and styles, there is sure to be an option for your size of bed or room. To view our range of bed rails, click here.
STANDING AIDS
After a long period of laying, standing up in comfort and with stability can be difficult, especially in unaided. Products such as hoists are very useful sit-to-stand aids.  With the addition of a bed rail, the user will be able to distribute their weight over both bedroom mobility aids. Click here to view our bed hoists and supports.
ADJUSTABLE/PROFILING BEDS
Adjustable beds help the user by elevating the mattress to aid the movement of getting in and out of bed.  Adjustable and profiling beds work to ensure a comfortable and safe transition getting in and out of bed. There is a variety of different adjustable beds to cater for certain needs. To view the bed frames that we offer for improved bedroom mobility, click here.
OVERBED TABLES
Overbed tables are bedroom mobility aids designed to increase comfort while in bed. Whether this is reading, eating or for a laptop, these tables reduce the stress of getting in and out of bed if alone, reduce wrist strain, and provide a convenient resting place for your drink and daily essentials. Typically, overbed tables are on wheels to allow the user to push away or pull towards them. To see what kind of overbed tables we offer, click here.
Making Your Bedroom More Accessible
At The Mobility Aids Centre, we are very proud of the service we offer our customers. Not only do we improve their lives with our products, but we also provide a specialist and friendly service over the phone or in our Peterborough showroom.
If you want further advice on how we can help you make your bedroom more accessible, visit our showroom or give our team a call today on 01733 342242.